Your Guide to Taking Photos with Your Adventure Pup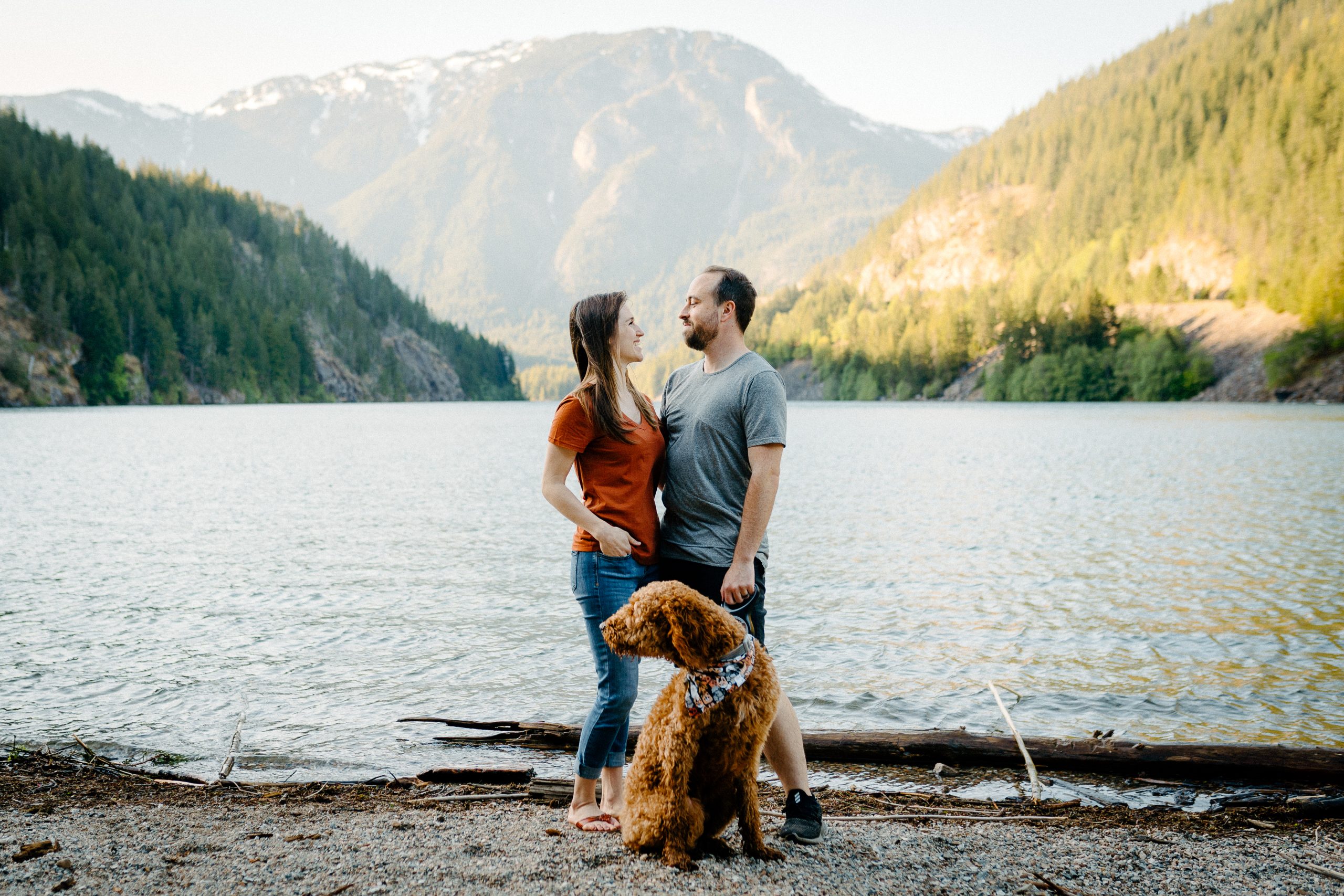 Dog people. This one's for you!
Just like most outings, bringing a dog seems like a no brainer to an adventure session. But it actually takes a little more planning and forethought than you might originally think. I LOVE dogs and always say yes to them coming along. However, it is important to remember this photoshoot is to capture your experience with your partner. The dog is part of the family, but you two are the core. So we want them to be welcome and happy, but not detract from your experience.
It ain't complicated, but here are the main things to consider and plan for when bringing your pooch to your adventure session.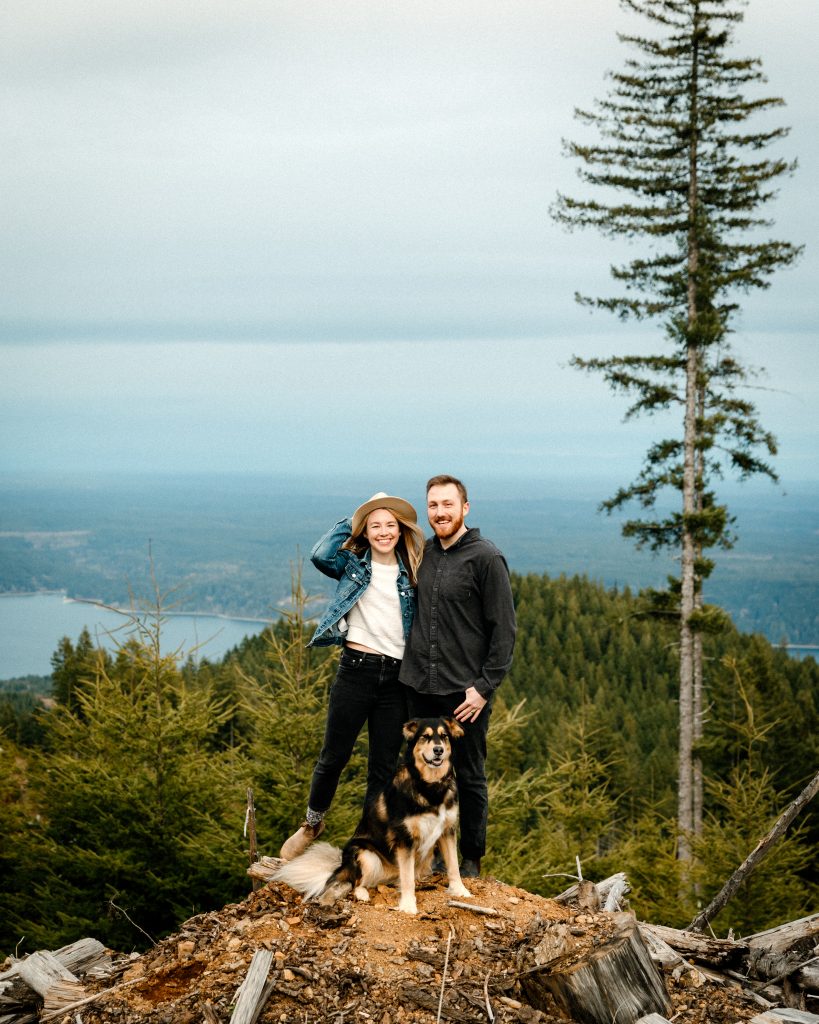 So, where exactly can our dog join for our adventure session?
This is the most important logistical item to consider in bringing your pup on an adventure session. Just because it is outside does not mean dogs are always welcome! But don't worry, there are simple ways to bring them in on the fun. Let me break it down for you.
Most adventure sessions will take place on public land. Public land includes National Forests, National Parks, State Lands, State Parks, County Parks, and City Parks. Let me preface by stating the leave no trace rule (pack that sh*t out!) applies to all of these.
Forest Service: Dogs allowed! Pack it in, pack it out.
National Parks: Dogs are NOT allowed on most National Park trails. Don't fret! Most National Parks have Visitor Centers at epic view points that we can access without ever hitting a trail. This means, pup can join for these photos! If you still want to do a hike, I recommend leaving them in the car with the windows down and if the weather is cool enough. We'll pick shorter jaunts in this case. Or better yet, ask a friend to come along and watch the dog for you. The other good news is that Forest Service land often surround National Parks, which means sometimes it just takes a short drive to reach trails your dog is more than welcome to join on.
State Lands and Parks: Some State Parks may have specific rules about dogs, but generally they are allowed as long as they can be controlled on a leash.
County and City Parks: These are nearly always going to depend on the local ordinances. They will post these on their websites or signs at parking lots. In general, they allow dogs on leashes. And of course, pack it out!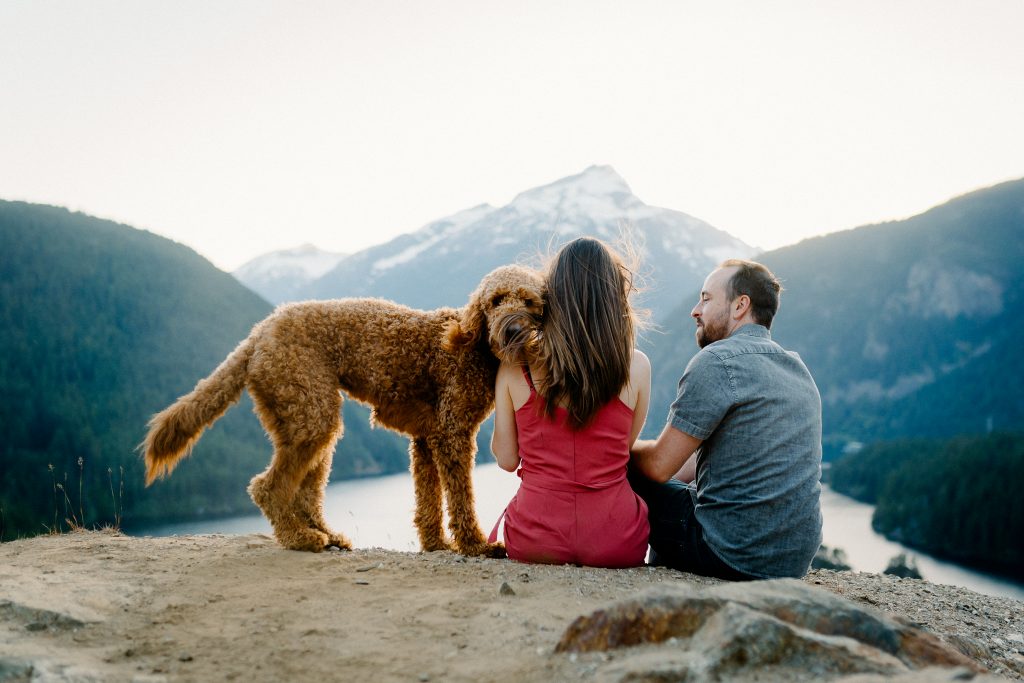 They won't be in every photo, so be prepared
Bring a leash and maybe bring a friend. Like I said, this photoshoot is focused on you and your partner. I totally get that the dog is part of the fam, though, which is why I always recommend that either start or end the photoshoot with your dog.
When we start your photoshoot with your dog, you have the option of leaving them in the car (weather permitting of course) or handing them off to a friend or family member for the duration of your shoot.
When we end your shoot with your dog, your friend or family member doesn't have to wait around for you and can just bring your dog about 30 minutes before we're scheduled to wrap things up.
In a pinch, a leash can do wonders if you're comfortable tying them up at each location.
Pictured below is Neema from Liana and Troy's maternity shoot. Neema joined for the beginning of Liana and Troy's session and Liana's mom was able to take her for the duration of the shoot. Good time for a long walk!
Let them join you in your shoot, not take over the shoot
There is just nothing like having incredible photos of you and your dog. I mean, I think those were some of my main pins in my early Pinterest days – cute couples with dogs. It's just so dang heartwarming. With that said, we want your photoshoot to be an adventurous experience that is simple and focused on you and your love. If you're too worried about your dog, it can take away from the photos of just you two. Just being real here.
So, coming prepared means that you can take time enjoying your pup but also focusing on the main reason for your shoot. Documenting you and your partner's love story and creating memories while we're at it!
So here is an obvious tip: bring treats! I'll even have you hand me some so I can be sure I get at least a few photos of them looking toward the camera 😉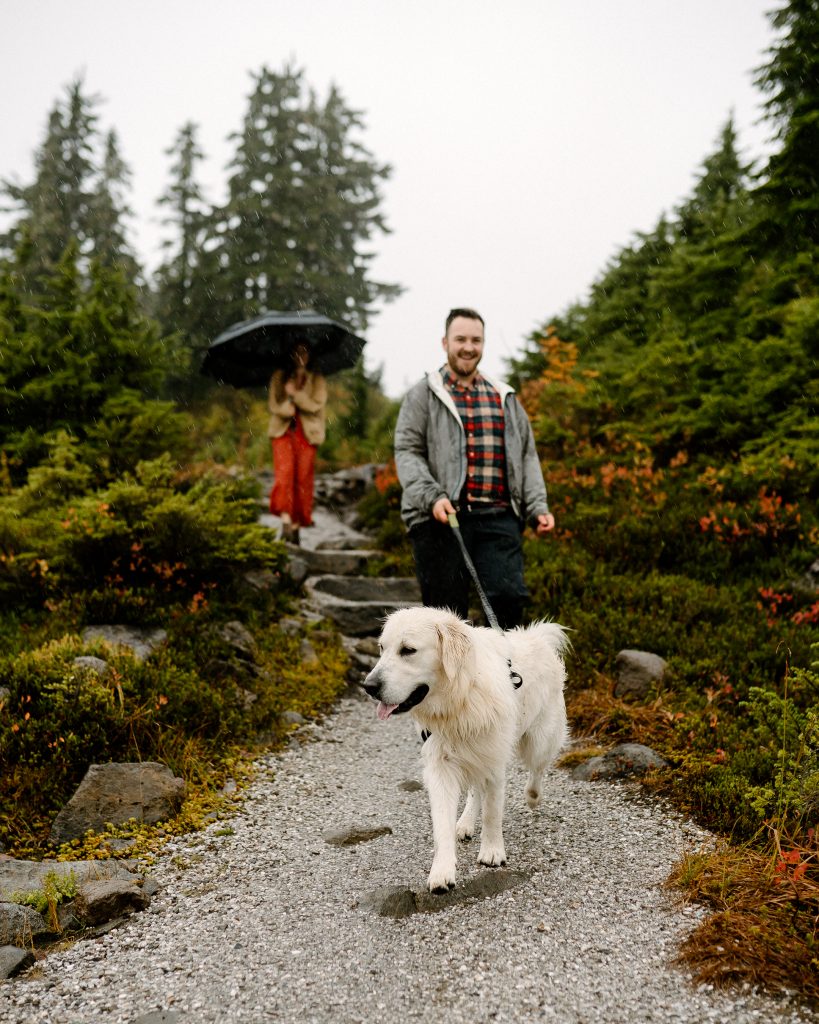 Communicate your specific needs
Every single dog has their thing. You know, that thing you need to prepare for, or tell people about, or feel like you have to explain? I get it. Hallie is a perfect angel in our eyes, but she will take you out with her full body spins and her occasional over excitement with other dogs. This is why it is so crucial to communicate expectations around your pup. Are they aggressive? Let me prioritize locations away from other people and dogs. Are they hyper active? Let's find ways to embrace the energy (aka I will up my shutter speed by a bajillion). Or in Poppy's case below, Olivia let me know she physically was unable to sit. This was so helpful because then I wasn't constantly trying to get her to do something that didn't make any sense for her.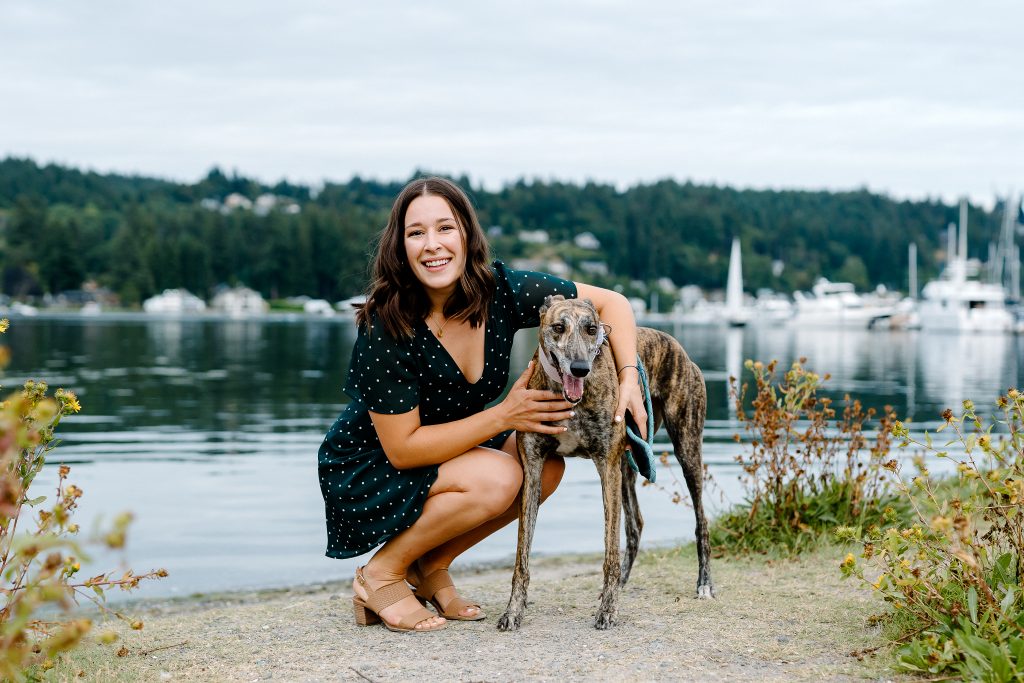 Just let them be themselves and join in the fun!
Don't stress about the perfect dog pose. Don't stress about poses period, ok? I am h ere to guide you all and that includes telling you where the pup would have the best light or composition. Other than that, don't be afraid to let them run around and be exactly the dog you know and love. That's what we're here to capture after all.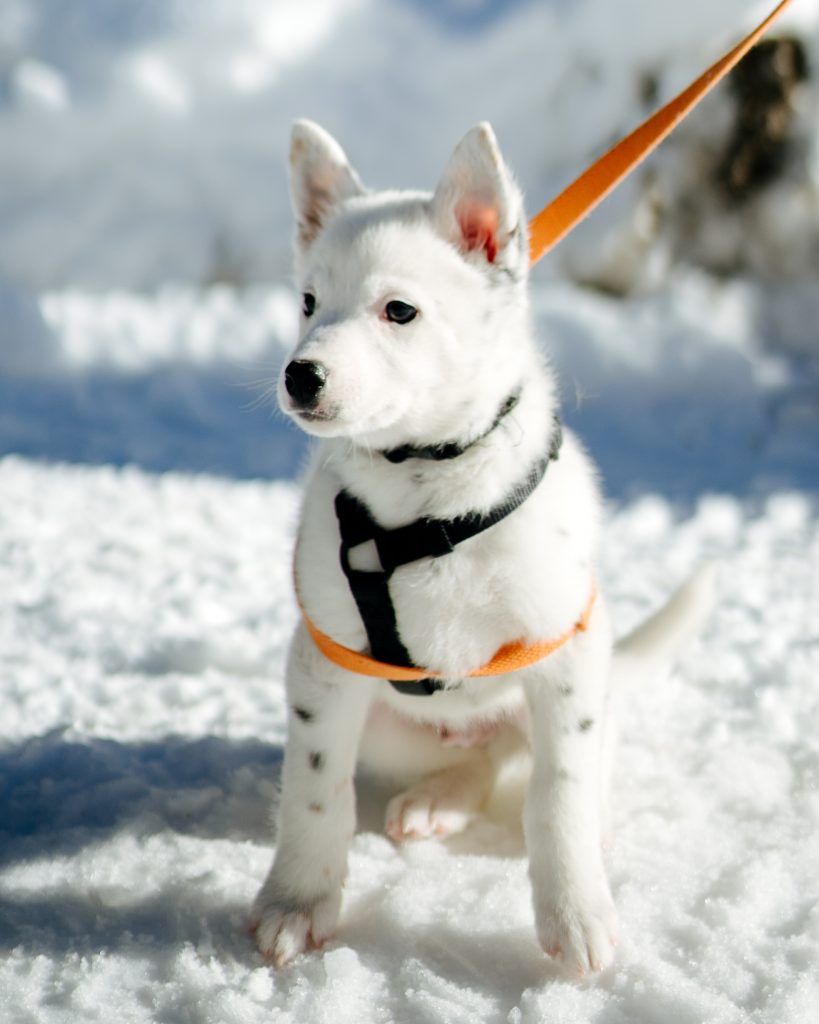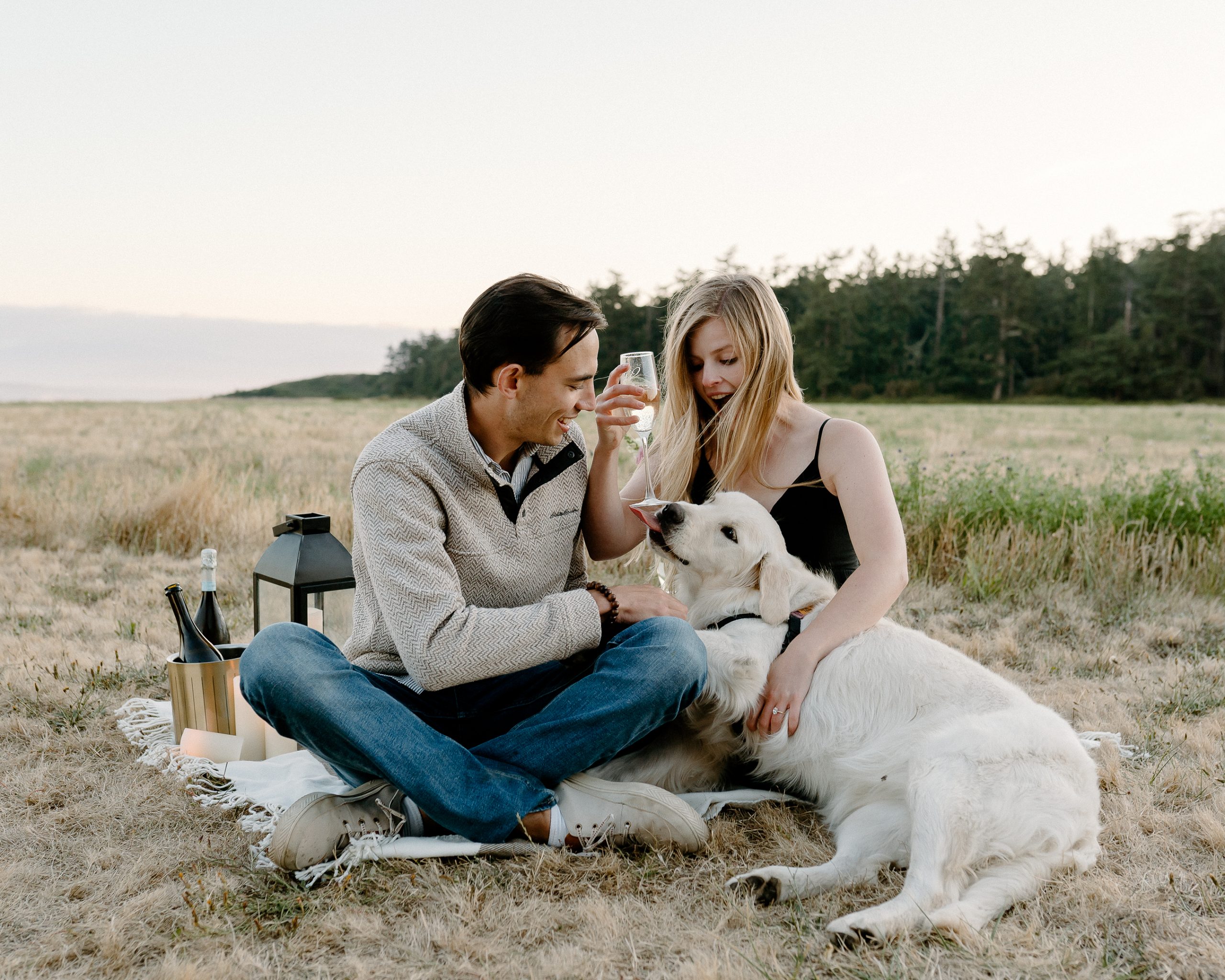 It's your fur baby. Interact with them in a way that feels natural and like you would in a park or yard at home. Then your photos will feel like an accurate representation of your little family.